Footballs Soccer Ballfoot ball soccerball foot ball
Match Football, Training Footballs. Camp Soccer Balls Volleyball soccerballs Rugby balls.

Top quality match ball produced with very fine quality synthetic leather, reinforced with polyester and cotton fabric. Best for all seasons.
Match Football
Camp Footballs

As-11
As-10



Training Footballs
Football and Footballs. Foot balls Soccer Balls. Volley ball soccerballs. Soccer Equipment and Sports Balls. Soccer Ball Image & Soccer Cleats Mini Soccer Balls Soccer Boots. Nike Soccer Balls Adidas. Soccer Ball Soccer Shop Twilight Soccer Ball Adidas Tango Scer Ball camp balls camp balls. logo training balls camp balls camp balls logo training balls. Camp Soccer Balls Country Flag Balls Mini Balls Promotional Balls, soccer balls soccer for camp, clubs and practice. soccer balls training balls custom logo soccer balls American flag soccer ball American flag footbal. world cup flag soccer balls Football Footballs Foot balls Soccer Balls Volley ball soccerballs.



-------------------------------------------------------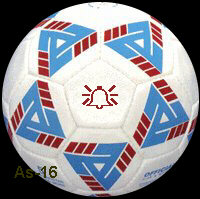 Custom Logo Soccer Balls available for your soccer camp.
Buyer's designs are cordially welcomed.
For Prices Please contact us:
E-mail:info@asdiansi.com
Page 3
---

Football, Footballs, Soccer Balls,
We are a soccer specialty retailer who services the needs of soccer players, soccer coaches, soccer parents and soccer fans. Soccer Post is proud to sell the most recent gear from: Nike Soccer, adidas Soccer, Puma Soccer, Kwik Goal, Diadora Soccer, Reusch Soccer, Sondico Soccer, Xara Soccer, and Kelme Soccer. SoccerPost also sells custom soccer uniforms to meet all your teams soccer uniform needs. SoccerPost is also proud to outfit many soccer teams with soccer cleats, soccer shoes, soccer uniforms, soccer balls and soccer equipment. If while on our site you do not see a: soccer uniform, soccer jersey, soccer shirt, soccer short, soccer cleat, soccer shoe, soccer ball, soccer field equipment, any soccer gift, soccer coaching supplies or any soccer training aids and we will do our best to meet your soccer needs.

Home
Soccer Balls
Volley Balls
Basket Balls
Rugby balls
American Foot Ball
Indoor Balls
Beach Balls
Hand balls
Mini Balls
Promotional Balls
Bladders
HOME
E-mail: info@asdiansi.com

Football, Futbol Footballs Soccer Balls. Fusbal Voetbal Volleyball. Bola de futebol .
soccerballs, Rugby balls. Pele Soccer Soccer Voetbal Fusbal Futebol Football Foot ball
volleyball soccerballs, Rugby balls

European footballs Football, English Premiership Clubs Rugby Footballs International Football Shirt.
UEFA European Cup. Football UEFA European Cup Football.

Sports goods from Sialkot Pakistan are export to fowling countries.

EUROPEAN UNION
Austria - Belgium - Denmark - Finland - France - Germany - Greece - Ireland - Italy - Luxembourg - Portugal - Spain -
Sweden - The Netherlands - United Kingdom
EUROPE
Albania - Andorra - Belarus - Bosnia - Bulgaria - Channel Islands - Croatia - Czech Republic - Estonia - Gibraltar - Hungary - Iceland - Isle of Man - Latvia - Lithuania - Liechtenstein - Macedonia - Malta - Moldova - Monaco - Norway - Poland - Romania - Russian Federation -
Slovak Republic - Slovenia - Switzerland - Ukraine - Yugoslavia
NORTH & CENTRAL AMERICA
Anguilla - Antigua and Barbuda - Aruba - Bahamas - Barbados - Belize - Bermuda - Bonaire - Cayman - Canada -
Ontario - Costa Rica - Cuba - Cura&ccedilao - Dominica - Dominican Republic - El Salvador - Grenada - Guadeloupe - Guatemala - Haiti - Honduras - Jamaica - Martinique - Mexico - Montserrat - Nicaragua - Panama - Puerto Rico - St. Kitts and Nevis - St. Lucia - St. Maarten - St. Pierre and Miquelon - St. Vincent - Trinidad and Tobago - British Virgin Islands - U.S. Virgin Islands
U.S.A.
Alabama - Alaska - Arizona - Arkansas - California - Colorado - Connecticut - District of Columbia - Delaware - Florida - Georgia - Hawaii - Idaho- Illinois - Indiana - Iowa - Kansas - Kentucky - Louisiana - Maine - Maryland - Massachusetts - Michigan - Minnesota - Mississippi - Missouri - Montana - North Carolina - Nebraska - Nevada - New Hampshire - New Jersey - New Mexico - New York - North Dakota - Ohio - Oklahoma - Oregon - Pennsylvania - Rhode Island - South Carolina - South Dakota - Tennessee - Texas - Utah - Vermont - Virginia - Washington - West Virginia - Wisconsin - Wyoming
SOUTH AMERICA
Argentina - Bolivia - Brazil - Chile - Colombia - Ecuador - French Guyana - Guyana - Paraguay - Peru - Surinam - Uruguay - Venezuela
AFRICA
Algeria - Angola - Benin - Botswana - Burkina Faso - Burundi - Cameroon - Central African Republic - Chad - Comoros - Democratic Republic of Congo - Djibouti - Egypt - Equatorial Guinea - Eritrea - Ethiopia - Gabon - Gambia - Ghana - Guinea - Guinea Bissau - Ivory Coast - Kenya - Lesotho - Liberia - Libya - Madagascar - Malawi - Mali - Morocco - Mauritania - Mauritius - Mozambique - Namibia - Niger - Nigeria - Rwanda - Senegal - Seychelles - Sierra Leone - Somalia - South Africa - Sudan - Swaziland - Tanzania - Togo - Tunisia - Uganda - Zambia - Zimbabwe
ASIA
Afghanistan - Armenia - Azerbaijan - Bahrain - Bangladesh - Brunei Darussalam - China - Cyprus - Georgia - Hong Kong - India - Indonesia - Iran - Iraq - Israeli - Japan - Jordan - Kazakhstan - Kyrgyzstan - Kuwait - Lao People's Democratic Republic - Lebanon - Malaysia - Maldives - Mongolia - Myanmar - Nepal - North Korea - Oman - Pakistan - Palestine - Philippines - Qatar - Saudi Arabia - Singapore - Syria - South Korea - Taiwan -Tajikistan -Thailand - Turkey - Turkmenistan - United Arab Emirates - Uzbekistan - Vietnam - Yemen
OCEANIA
Australia - Cook Islands - Fiji - French Polynesia - Guam - Federated States of Micronesia - Kiribati - Marshall Islands - New Zealand - New Caledonia - Niue - Northern Mariana Islands - Papua New Guinea - Solomon Islands - Tonga - Tuvalu - Vanuatu - Western Samoa