Bungee Soccer Trainer
We can put your company name on the bungee ball !
You will also benefit in other skills with bungee ball.




Passing
Throw Ins
Goal Kicks
Free Kicks
Corner Kicks
Penalty Shots

Bungee Soccer Balls
Boomerang Balls
Kick Back Ball
When you kick the ball it comes right back to you!
Bungee Football allows continuous training without having to chase the balls.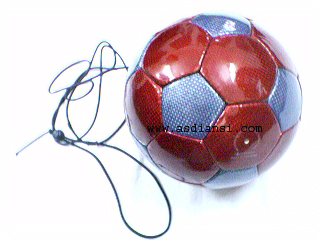 Training Aids
You will increase the strength in both your legs for kicking the ball.
| | |
| --- | --- |
| Tethered soccer balls | |
A&A Soccer trainer is easy to use.
The bungee style cord slips around the waist and when used, the ball will return
to the opposite side of the player's body, forcing the player to use both feet.
Bungee Footballs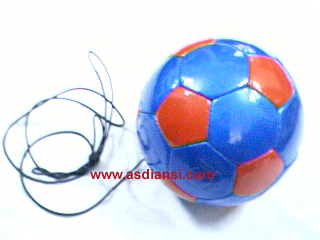 bungee ball
Practice your dribbling, trapping, juggling, and ball control skills with A&A Bungee Soccer Trainer.
Great balls for solo training.

Buyer's designs are cordially welcomed for string balls.
For Prices Please contact us:
E-mail:info@asdiansi.com
---
Home
Pool Soccer Balls
Promotional Balls Soccer Balls Volley Balls Basket Balls Rugby balls Beach Balls
Antique Soccer Balls Indoor Ball Hand balls Mini Balls Futsal Balls Accessory
American FootBall Beach Soccer Balls Hurling ballFaust ball Bladders
Kids Collection Soccer Uniform Goal Keeper Gloves Track Suits Stress balls
Copyright 2023(c)